The Czech optical cluster, in cooperation with the CEITEC research center and German partners Max Planck Institute and Organic Electronics Saxon, organized a workshop in the field of modern microscopy and correlative characterization of materials, which follows on from the successful event on this topic that took place in October last year in Brno.

The Correlative Materials Characterization 2022 workshop took place at the Max Planck Institute in Dresden on 13-14 October 2022.
Cluster manager Petr Přikryl evaluated the meeting: "Collaboration with German partners and the opportunity to organize a meeting at such an important scientific institution as Max Planck is a unique experience and for the Czech Optical Cluster another opportunity for the development of international cooperation.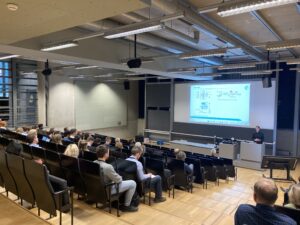 One of the main topics of the application of correlation characterization of materials in the semiconductor industry and in microbiology are highly topical areas today. The high quality of the lectures, the participation of important representatives from institutions, universities and companies from all over Europe are an important factor for the meeting of the professional community. The success of the event is confirmed by the fact and interest that this workshop will be held again next year in Brno."
More information, including the program, can be found on the event's website: Correlative Materials Characterization